EXCHANGING BEST PRACTICE IN DANCE FOR YOUTH
Over two (finally four) years, five different organizations from different countries within Europe will collaborate to share, learn, and explore best practices in working in dance with diverse groups of young people. In a constant exchange, the partners will generate discussion around the principles and the practice of the work, learn innovative techniques from each other, and develop fresh approaches which will be shared with dance artists in each partner country and will be reflected and developed further with groups of young people.
​Conchances is a partnership between Fokus Tanz, München (DE), Curious Seed, Edinburgh (UK), Les Schini's, Bordeaux (FR), AppArt & ArtMan, Budapest (HU) and De Dansers/contweedancecollective, Utrecht (NL), each organization bringing distinct expertise and experience in developing dance work with, and for, young people.  The aim of the project is to sustainably strengthen the potential of these young people, build confidence and inspire individual and collective creativity.  The project aims to promote education, understanding and networking between the partner organizations within the context of an Erasmus+ funded project.
Final publication of the project: Open PDF
Notes of the Budapest meeting: Open PDF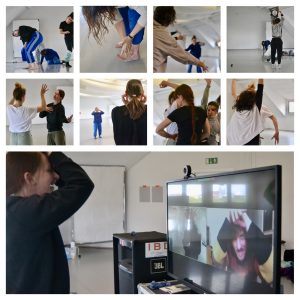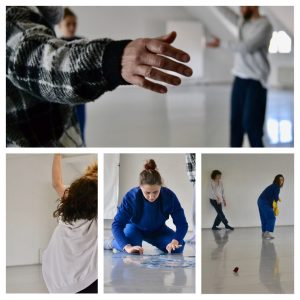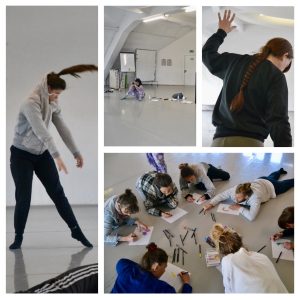 photos by Domenica Ewald; Work & Meet, München, 2021
PROGRAM OF THE BUDAPEST MEETING
THURSDAY – 18.11.2021 || WORKSHOP DAY
Venue: Trafó Stúdió, Budapest, Liliom u. 41.
WORKSHOPS
10:00-11:30 _ shared practice of SVUNG group
11:45-13:15 _ REsharing stories – workshop with Viola KALLÓS; based on experiences of Theater Na de Dam || Személyes történelem project
15:00-16:30 _ Acoustic delusion – workshop based on the principles of the dance piece
16:30-17:00 _ closing circle of the day
CULTURAL PROGRAM
20:00-21:00: Acoustic delusion, dance piece by Andrea MÉSZÖLY, Juli DOBAY, Tamás BARKÓ
Venue: MáSzínház, Budapest, Bakáts tér 3. 
FRIDAY – 19.11.2021 || WORKSHOP DAY
closed event for participants of CONCHANCES program, provided by Curious Seed (UK)
SATURDAY – 20.11.2021 || CONFERENCE & WORKSHOP
CONFERENCE
Venue for the conference: National Dance Theatre Budapest, Millenáris park
10:00-13:00 _ precentations of projects, methods and experiences
NIBIRU

project – Zsófia Tamara VADAS and other artists (H)
DOOL one day fun day! project – Juli DOBAY, ArtMan (H)
Principles of the work in MáSzínház; Apák fiai projekt – Gábor Csaba MÁRTON, MáSzínház (H)
The MAKE project – Curious Seed (UK)
DTIE – Dance Theater In Education; projects and practice in Hungary – Attila KUN (H)
INKLUSIVE WORKSHOPS
Venue for the afternoon workshops: Grabó 200 – Workshop Foundation in Jurányi House
14:30-16:00 _ inclusive workshop with Artmenők Program (Artman Association) by Andrea MÉSZÖLY, Bernadett JOBBÁGY
16:20-17:50 _ inclusive workshop with Gábor Csaba MÁRTON, MáSzínház
17:50-18:20 _ closing circle of the day
CULTURAL PROGRAM
19:30-21:30 Zuhanás sokkja | The shock of the fall, theatre piece by MáSzínház; dir.: Henrietta KOVÁCS
Venue: MáSzínház, Budapest, Bakáts tér 3. 
SUNDAY – 21.11.2021 || COORDINATORS' MEETING
closed event for participants of CONCHANCES program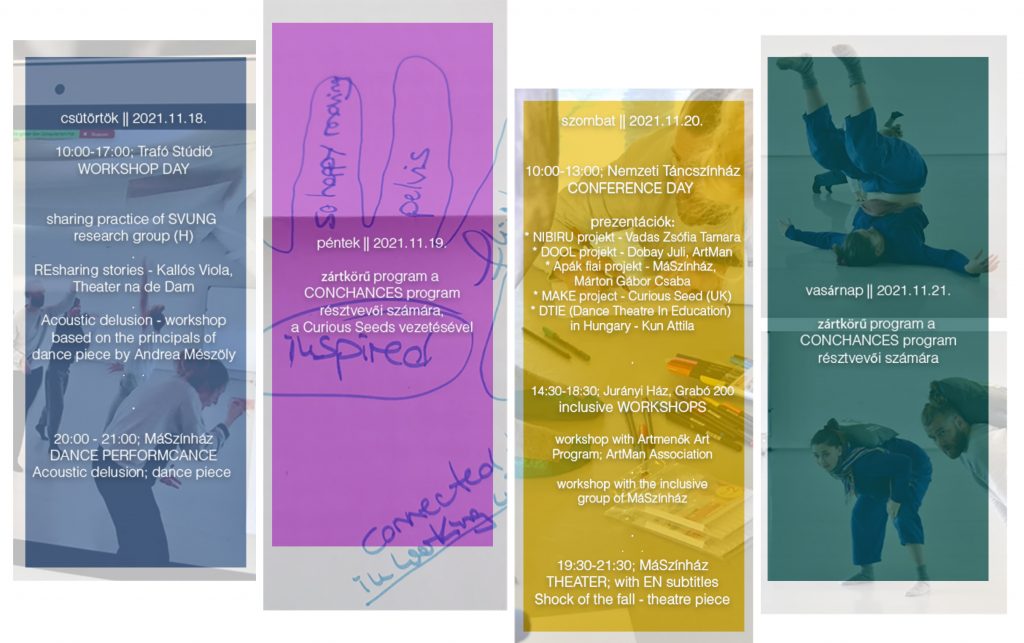 PRACTICAL INFORMATIONS
The public workshops and conference program are FREE of charge, but requires registration. You can register via this online form  >>> HERE
For the theatre program, you can buy tickets >>> HERE
WORKSHOPS and ARTISTS
SVUNG is an ever-changing cluster of dancers, dance pedagogues, and applied theatre experts who conduct artistic research. Members of SVUNG have a belief in bodily sensations and in shifting from one's dominant sense to another. SVUNG designs workshops, pre-performance warm-ups for the audience, participatory events and installations as well. In these events, participants explore the surrounding landscape and soundscape, furthermore the common bodyscape and relationscapes, and they also delve into the idea that the unpleasant is the premise of individual/social change. As a current interest, SVUNG focuses on eco-somatics and thus recently held a performative vigil in an abandoned, forest re-inhabited cemetery of Budapest.
Facebook: facebook.com/svungresearch 
email: svungresearch@gmail.com
Viola KALLÓS is a community theater specialist, drama teacher and art teacher. She works in Budapest with applied theater methods (drama pedagogy, forum theater, theater education, playback theater, improvisation theater). She holds theater and art pedagogy sessions for adults and high school youth primarily for community development and self-knowledge purposes. She is the program manager and director of the Theater na de Dam – Personal History Budapest.
http://www.szemelyes-tortenelem.eu
https://www.facebook.com/szemelyes.tortenelem.budapest
Akusztikus csalódás || Acoustic delusion (dance piece and workshop)
""Encounters. I think everyone has some hobby, one or more. Mine is encounters with people. Usually I have many opportunities, especially when I am on my way somewhere. When ever I spend a shorter or longer period with them, what they say may or may not make an impact on me or pass by my ears. Most often they have an effect on me."  " (Tamás Barkó, blind performer)
The workshop is held by the creators of the performance, entitled Acoustic delusion. The artists share their experiences from the creating period in an inclusive facilitating way. The topic is the lack of visual sensation. In the 90 minutes workshop we can experience our authentic movement through the acoustic and kinesthetic sensational forms and we can connect with each other in the common space. 
Creative performers: Tamás BARKÓ, Júlia DOBAY, Andrea MÉSZÖLY
More information: http://artman.hu/acoustic-delusion/
NIBIRU: the project is an interdisciplinary creative process that is based on presumptions and visions and that draws conclusions about the future of mankind and the Earth, starting from the tale about Nibiru, the tenth planet of the solar system, which when crashing into Earth will end the forms of life as we know them now. The performance explores what else could happen on Earth after this. The artists ( Tamara Zsófia Vadas, choreographer, performer and dance pedagogy, Ábris Gryllus, media designer, musician, Márton Emil Tóth, visual artist, Anna Zsigó, dramaturgie and Viktória Varga, dance pedagogy) are working with children aged 10-18 on a project that will be presented by children. The process has been a collective experiment based on the transitions through art genres and cross-generational knowledge transfer.
Trailer: https://vimeo.com/322814320
DOOL: the school program of ArtMan Association, with inclusive co-leadership; developed in partnership of 5 European NGOs, within an Erasmus program.
Dance Out Of Line! Strengthening and developing artistic mixed-ability strategies for schools in Austria and Europe.
See more: https://dool.spletodrom.si/
Presenter of the project: Juli DOBAY, artist teacher of the Hungarian DOOL team
MAKE workshops are based on a model that has been developed from Christine's research project of the same name which focused on the question: how do young people respond creatively when they are given the opportunity to make choices as the choreographer/maker with professional dancers as their 'raw material' to work with? The aims of Curious Seed's MAKE are to explore switching round the more 'traditional and expected roles of the expert adults and the inexperienced young people in a workshop situation; and to collaborate creatively and equally with young people, engaging them directly with our creative practices.
Activities for kids by Curious Seed: https://www.curious-seed.com/curious
Artmenők workshop: http://artman.hu/hamarosan-kezdunk-artmenok/
Artmenők is the performing art program by ArtMan Association, for teenagers and young adults with any kinds of abilities. The association runs two mixed-ability groups under this program on the weekly base, with the aim to facilitate performance skills and co-creation with the participants.
Group sessions by MáSzínház (AppArt Association): https://mas-zinhaz.hu/csoportfoglalkozasok
* * *
The project is supported by the European Union Erasmus+ / Youth in Action program, with the aim of exchange good practices in Europe. 
COVID policy and rules
The workshops can only be attended with a vaccination card, a negative PCR-test not older than 72 hours, or a negative flow test on the spot, before the event starts.
Wearing face covering mask at all indoor activities are mandatory.
We clean the venues with maximum care, and provide hand sanitizer and hand washing facilities in each place.